"Deathletter"

tteerriibbllee, Amsterdam
March 2023
"Deathletter" is a solo performance, in the form of a letter to an ex-lover. Using negation to prompt a narrative twist, the text navigates through a variety of melodramatic and erotic modes an intense love and hatred towards its subject.
Accompanied by a gentle trap backing track that provides a rhythmic boost to the story, the reading transforms into an exit from the reading space. This is based upon a Greek folk step, repuposed by way of a variety of articulations in the arms that reference both flamenco, ballroom and belly-dance associations. These are invoked as moments of 'femme-intensity' within social dance.

A final pleasure dance acts as a release moment and creates a false, yet satisfying, sense of closure, in the manner of the language and narrative twists that precede it.
Documentation of the performance is viewable here.
---
"Allmylife"

Nogueras Blanchard, Madrid, curated by Juf Project
September 2022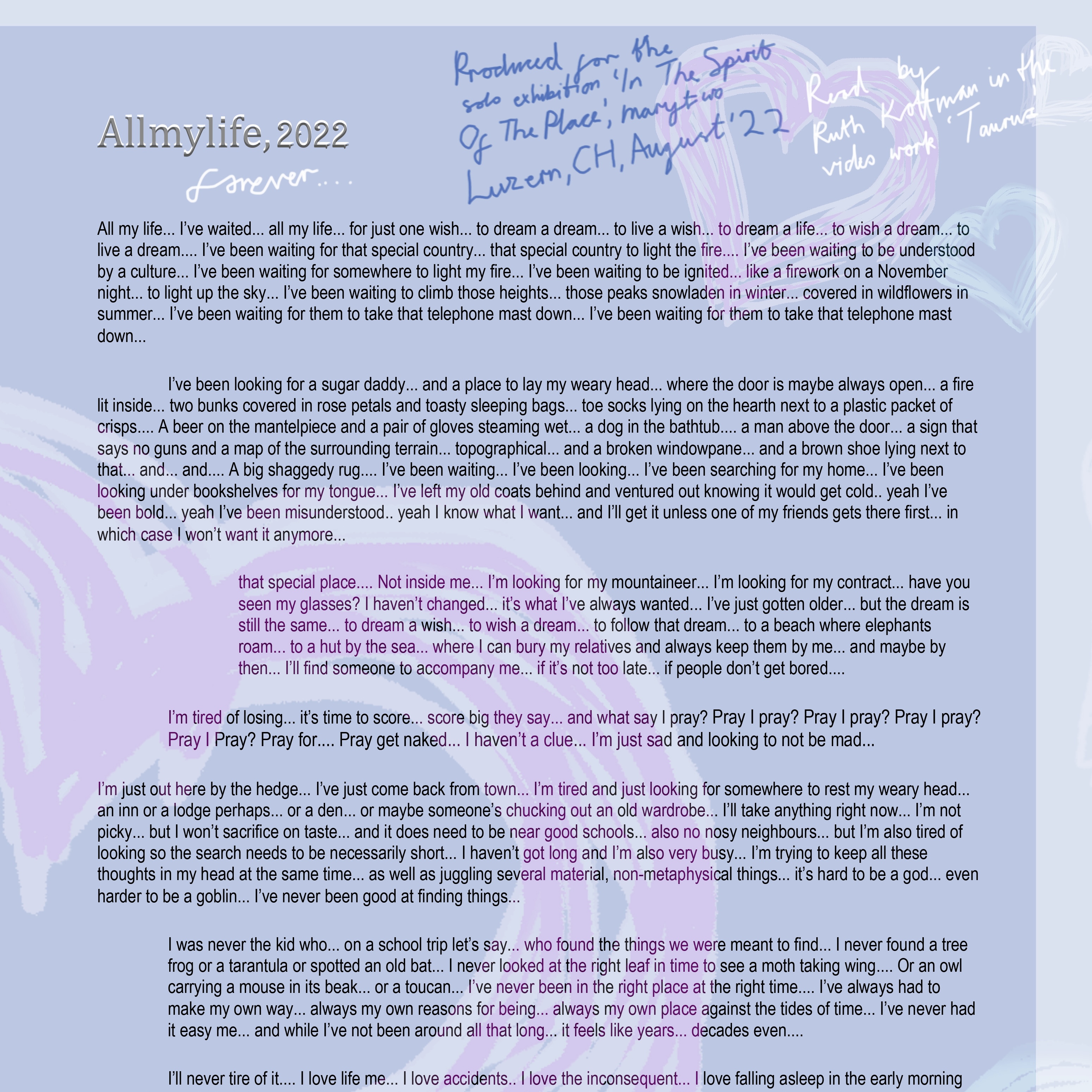 "
Allmylife
" is a confessional text that featured as part of the video "Taurus " for my exhibition "In The Spirit Of The Place" at marytwo in Luzern, August 2022, and was subsequently performed at a poetry event organised by Juf Project, at Nogueras Blanchard gallery in Madrid, to celebrate the opening of the exhibition of work by Catalan poet Joan Brossa. The work was performed alongside readings by Tarek Lakhrissi and Olivia Douglass.
The text is informed by caption writing and a dark-femme archetype of the millenial wanderer. The work was performed to a backing track loop lifted from Nina Sky's 'Secrets', that activated the whimsical nature of the text and helped to set the words and themes in motion.
From the exhibition text:
"Nogueras Blanchard gallery invites Juf to activate Joan Brossa's exhibition Do you think that if I didn't like it / I could stay the way I do / and write the way I write? Taking the artist's expanded conception of the poetic act as a starting point, the event brings together three poets and performers with a strong tie to contemporary art. The readings by TAREK LAKHRISSI, BILLY MORGAN and OLIVIA DOUGLASS test the current relevance of themes and interests that run through Brossa's work —such as theatricality, visibility, the semiotics and iconography of popular culture, and the construction of publics through estrangement— putting them in relation to a situated and personal use of language that is traversed by categories of gender, sex and race."


Documentation of the reading is viewable here.
---
"Cry or Laugh"

Tteerriibbllee, Amsterdam, 2022
"Cry or Laugh" was the curation of a reading event that centred expanded acts of reading at the intersection with performance.
Stefa Govaart performed "Duplicity Willing", Saman Mahdavi performed "lullaby for awakening", Yujing Liu facilitated a collective movement and voice practice, Jakob Wittkowsky performed "tour diary", Billy Morgan performed "Foils" and the Clumsy Sweets closed the evening. The works were arranged in an associative sequence.
Song, dance, poetry,autofictive gestures and notes on revolution formed the evening's programme.
---
"In The Spirit Of The Place"

Solo exhibition, August — September 2022
marytwo, Luzern
"In The Spirit Of The Place" is an exhibition that unfolds the notion of interiority as an interchangeably psychological and spatial quality, across objects, sculpture and a video installation.
"Grottooo" acts as a mood anchor for the show. A sculptural work clad in pebbledash, a finish popular across the suburban English cityscape, its house-approximate form behaves as a foil to the wall-hung series of glass plates and the 2-channel video work, with its sequence of scenes shot in domestic interiors.

Nine glass plates were manufactured in collaboration with Glasi Hergiswil, Luzern-based glass factory, onto which an anthology of poetry was engraved, with a mixture of hand-engraving and sandblasted techniques.


"Taurus" is a two-channel video installation, produced whilst in residency in Beromunster. The floor installation video is an experiment in deploying the form of a text reading within the aesthetic conventions of a music video. The texts ruminate, through a series of character fictions, upon the subversive potential of the 'dark feminine' figure to offer an anti-position to how we constitute value, morality, enjoyment and success. Delivered in a whimsical tone by Ruth Kottmann, a former inhabitant of the house in which it was filmed, the video is shot across a sequence of rooms that produce a domestic, yet distorted quality.
The wall installation depicts a dance in front of the Landessender, a decommissioned 1930's radio mast in Beromunster, the village in which the house is also located. The steps are twisted from the 'hierig', a Swiss wedding dance, to celebrate my union with the tower and thereby the 'spirit of the place'. The contract between us produces another reading upon how we affect, and are affected by, the landscapes of our lives.
The video works and full documentation can be viewed here, on the marytwo website.
"In The Spirit Of The Place" was on show at marytwo, Luzern, from 19 August - 24 September, 2022. With thanks to Elvira Battig and Jack Pryce for curatorial support and documentation, Ruth Kottmann for performance collaboration, Eva Maspoli for construction support, Fabian Fretz for graphic design, Beau Lai for the exhibition text and Philipp Amaro for camerawork and directorial support. Featured on

KubaParis

.
---
"The View From Here"

The Place, London, May 2022
"The View From Here" is the latest instalment of a series exploring how the poetry reading form can be stretched at the junction with choreography. Bringing a queer lens to the conventions of language, the work folds erotic and lyrical fictions together into a sculptural composition. It is a poetry reading, set in motion.
Text, voice and object are stacked into fragile images. Standpoints, as ways of seeing, are revealed for their flimsiness. Antiheroes, nimbyists and lusty lovers are inhabited and abandoned with equal interest. We can sense a world in the making – sensual, strange, often unpleasant, but it always resists a name.



"The View From Here" premiered at Resolution Festival, The Place, London, 2022
---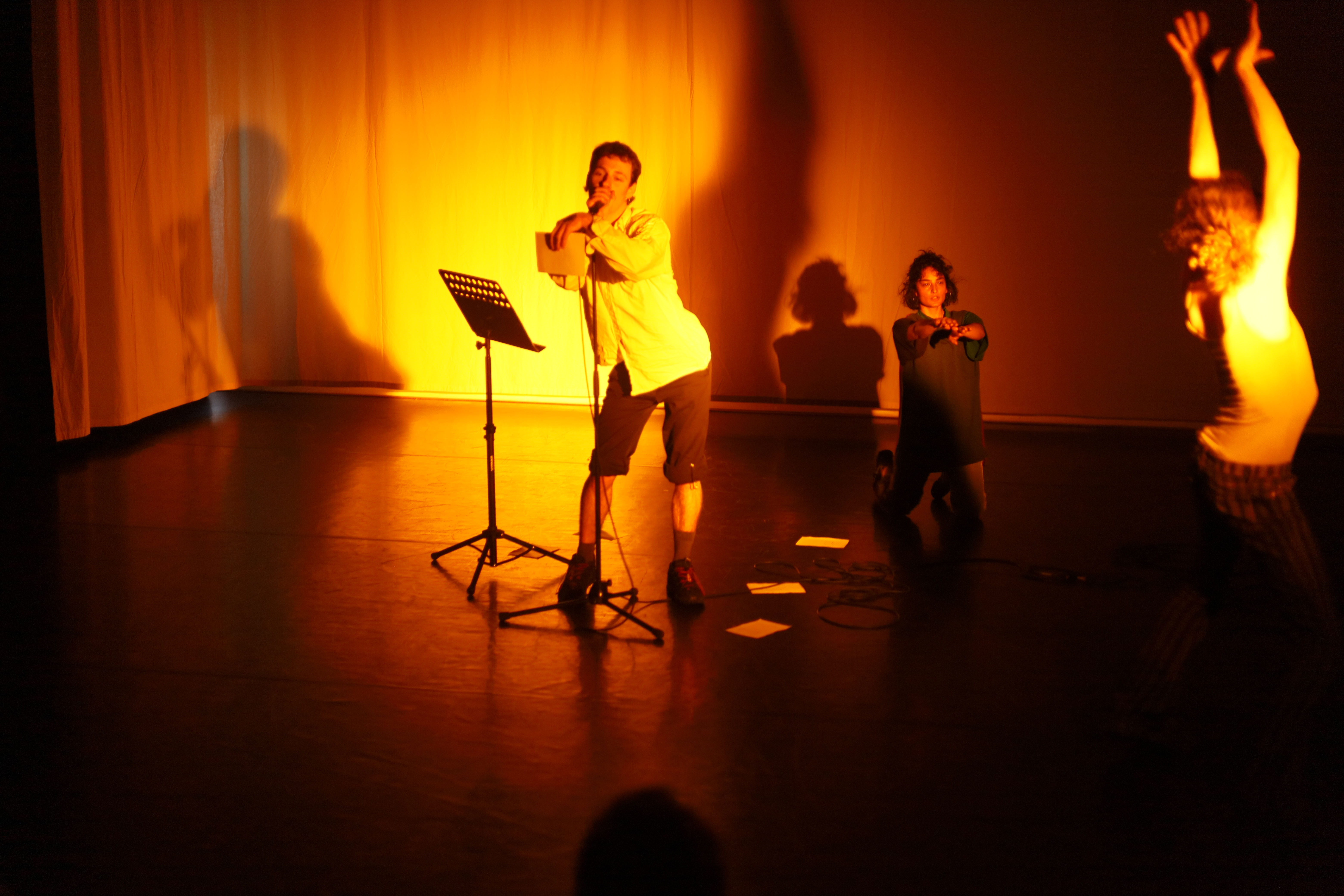 "...And Die Among The Violets"

SNDO, Amsterdam, 2022
In collaboration with and performed by Saman Mahdavi and Jakob Johannes Wittkowsky
"...And Die Among The Violets", is a performance structured around acts of reading, erotic writing and noise poetry.
"...almost morning./inside/in the shower
alouan: crying while receiving blowjob..."


Giving primacy to the exercise of desire, the work begins in the realm of microgestures. The negotiation of force and intimacy through the fingers builds into a series of scenes in which the body, and by extension the voice, is placed under duress.
A transition occurs into a second, darker realm. The band, the backup dancer, the noise poet, and the fanatic interplay their roles, in which the textual material (sexploitation scenes, erotic poems and lists of names) is delivered with and against live-mixed noise.
Throughout, the use of noise is foregrounded as a means of frustrating information. The work teases out alternative states of recitation and the expanded potential of the poetry-reading form.
Photography by Matthieu Le-Brossard & Nellie de Boer. Excerpted text above by Saman Mahdavi. "violets" was produced and presented at the SNDO, Amsterdam, 2022.
---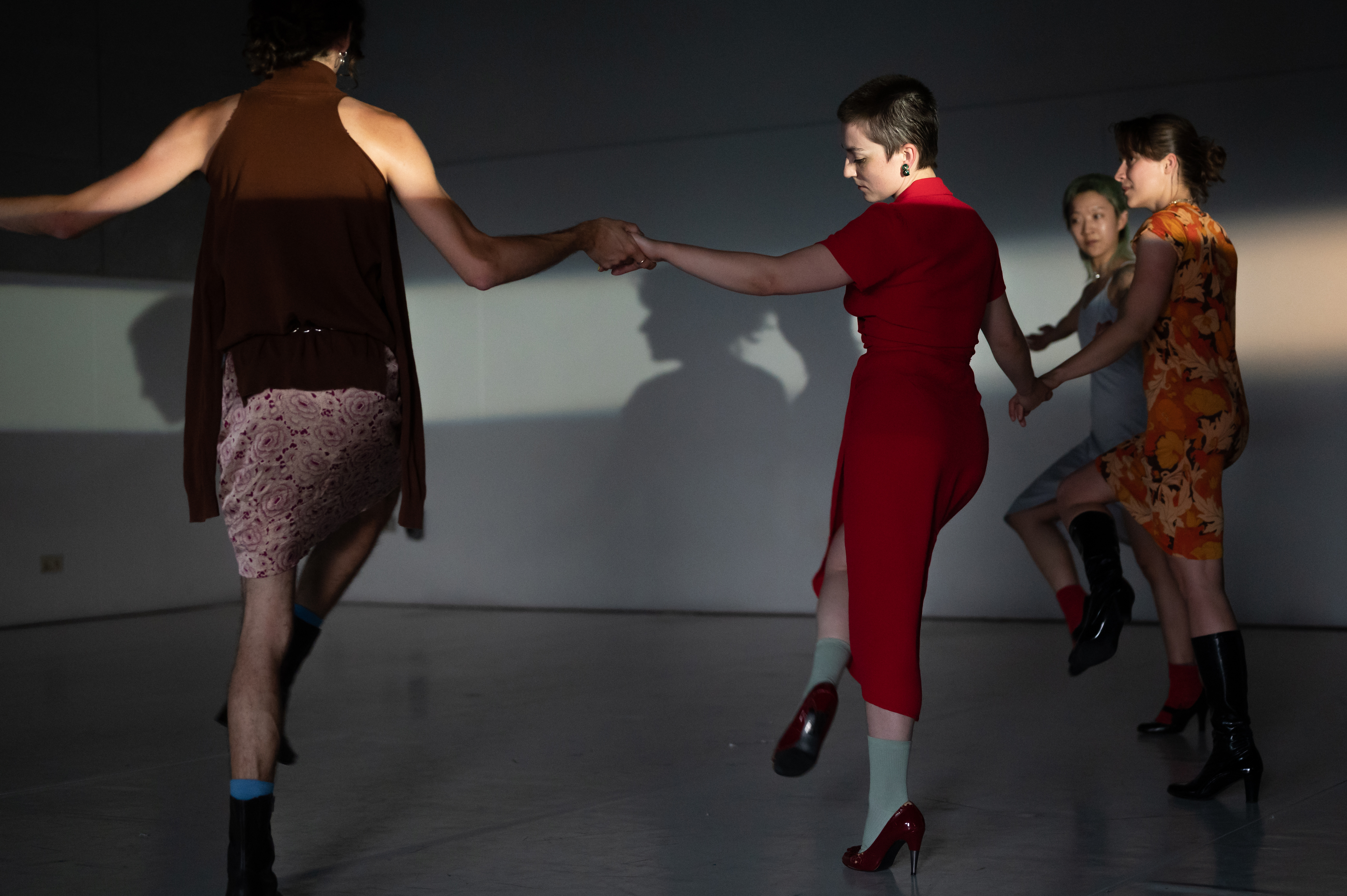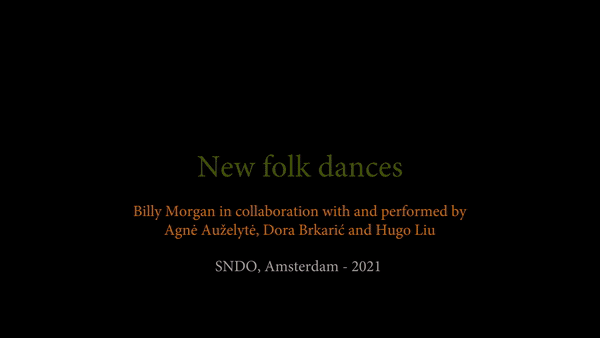 "New folk dances"
SNDO, Amsterdam, 2021
In collaboration with and performed by Agnė Auželytė, Dora Brkarić and Yujing Liu
"New folk dances" is a performance work that reflects on the connection of landedness to social dance, by asking what role historical dance can play in the present.
Mediated by the forgiving human chain, the work blends elements from four European folk dances. Applying the fallacy of virtuosity to the democratic forms of circle dances, the work plays on the dry qualities of amateur dance troupes.
"New folk dances" asks how the 'oldness' of folk dance — and its wealth of pre-existing material — can be both a container for sociality in the hyperindividual present and a frame for the conjuring of diverse 'new' folk imaginaries.
"Helen runs an online shop for Graeco-Roman garden ornaments with her husband Panayiotis from their detached house in Hadley Wood.
On Saturday night they go down to Trios in Palmers Green, where you can still smoke inside."
With advising by Bruno Listopad and Leonie Kuipers, and technical support by Zero Goudsmit
---
"Feine salate"

SNDO, Amsterdam, 2020
A choreography of object-subject partnerships.
A loose series of games invented to trick the body into presentness.
A noisy wooden lodge.
A longwinded private joke.
Uses up the dissociative leftovers from a 70's recipe book of gourmet salads.


---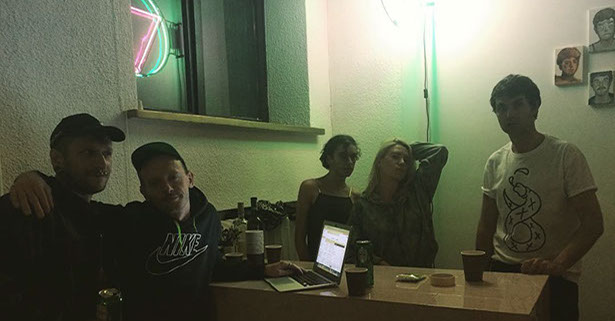 "A Celebration"
Salon 14, Warsaw & Kem event for Arsenic, Lausanne, 2020
A poetry and sound work.
"..
shall I compare thee
to a rusty bike?
I wanna ride you
til you run
out of words
til your ears
fall off and
into my purse
.."
A series of poems woven into a sonic landscape, the text works with the lyrical trope of address, underscored by longing.
The work was presented as part of the exhibition 'Queer Queer Casimir', Salon 14, Warsaw in October 2020 and at Theatre Arsenic, Lausanne, September 2020, where it closed a party programmed by Kem as part of Programme Commun.
---
"Songs of Poland"

Capital Petzel, Berlin and Kem, Warsaw, 2020
An expanded poetry reading at the intersection of text and gesture.
The text broaches contemporary medievalisms, by way of nationhood, loss, and queer friendship. Four poetic chapters unfold to a track of found sound and intimate recordings that loop through both the club and intimate body space.
"..There was invasion there was growth.
There was help there was criticism.
There was help there was contradiction.
There was sharing there was dancing.
There was holding there was loving.
There was gladness there was selfishness.
There was heartlessness there were hearts to be won.
.."
Two movement inserts - a courtly social dance and a pleasure dance finale - surface within the script. Songs of Poland thereby plays out through a system of loops, at once sonic, choreographic, textual and temporal.
The work was presented in Capitain Petzel Gallery, Berlin, and at the invitation of Kem queer-feminist collective in Warsaw, both early 2020.
Link available upon request
---


"Nachtflug"
K21 Duesseldorf, 2020

A performance in collaboration with Moritz Krauth.


Nachtflug is a choreography of anticipation, developed for the stone staircase in K21 Kunstsammlung NRW, Düsseldorf. Taking cues from Antoine de Saint Exupery's 'Night Flight', in which the spectre of disaster is never far away, the performance locates itself in an ante-realm.

Two performers attempt to create a dialogue of expressions, interrupting one another's narratives in gestures towards conversation, for it all to end in a monologue.


"Lately, I have been obsessed with the idea that something is going to happen.
I have no idea what I am anticipating and yet I seem to spend all my time in waiting.."
The work was developed and performed at K21 Düsseldorf, March 2020, and the documentation was presented in Am Ende Des Tages, artist-run initiative in Düsseldorf, also throughout March 2020.
---


"Song Cycle"
Dziwnowo, Warsaw, 2019

A poetry reading with sound.


"..
And one look back
into it. phalloi of businessmen
turn up, setting wrinkles in airspace
winking at the european horizon,

A thousand great Dreams for polska
in these glamourless erections;
emergent, cosseted in blue panes
they dribbblee a paltry cum spoil,
From the urethrae of their cheap and
nasty summits, oh
get me a Margaritah love!
.."


The text speaks on turbo-gentrification, outsidership, queer ruralism and grief, where the financial district of Warsaw serves as a backdrop.

Performed in Dziwnowo queer house in Warsaw in July 2019, and features in the latest iteration of the 'Faggots, Friends' film sequence by Alex Baczynski-Jenkins, screened as part of RIBOCA 2020.


---


"Cruellest of All"
U-jazdowski Castle Centre for Contemporary Art, Warsaw, 2018-19

A recurring performance that takes a subjective tour through the permanent collection of the CCA Warsaw as its starting point.


The collection is probed from a critical subjectivity. Strands of queer futurity, post-humanist provocations, animism and queer spatial theory are interwoven with embodiment, Jenny Holzer's timely 'Truisms' and poetry on colour from Derek Jarman's Chroma.

Strategies of soft power are deployed to direct and implicate the audience's responsibility in relation to the issues that are broached.


"The future is stupid! Men won't protect you any more!"
Scripted & choreographed with Ania Nowak, for the exhibition 'Far Too Many Stories To Fit Into So Small A Box', October 2019 - May 2020, curated by Bik Van Der Pol & Joanna Zielinska, at U-jazdowski Centre for Contemporary Art, Warsaw.
---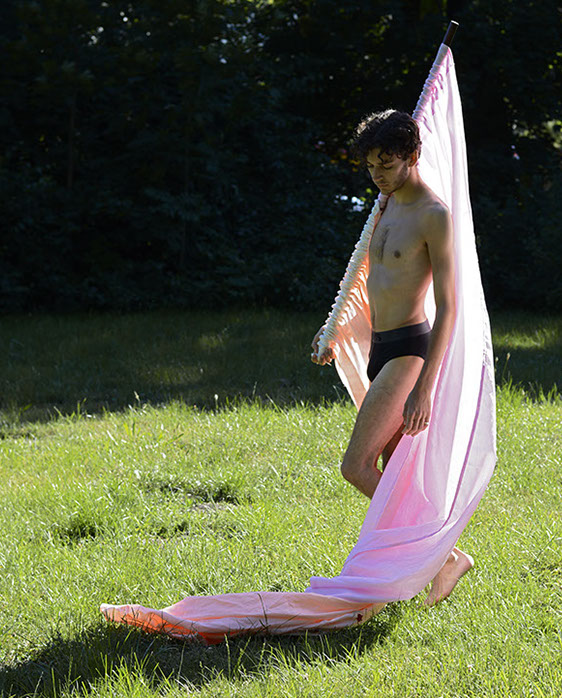 "Wet Look"
Królikarnia, Warsaw, 2018

An outdoor performance work, in which the minotaur as 'sexual other' is embodied through various characters – the lone cruiser, the urinal pisser and the prowling minotaur itself.


A labyrinthine path is staked out as an act of queer territoriality. Movement material is found through play with reflective fabrics. These elements take on an architectural quality, demarcating space while suggesting the presence of force, entanglement, safety, sensuality, and horns.

Situated between two trees, one in shade & one in bright summer sunlight, the ephemeral staging evokes the 'wet look' of the iridescent fabrics, and thereby 'wetness' as a spatio-sexual - and derided effeminate - quality, in dialogue with its immediate environment.

Performed in the sculpture garden at Pałac Królikarnia, Warsaw, 2018.



https://vimeo.com/374035436
---