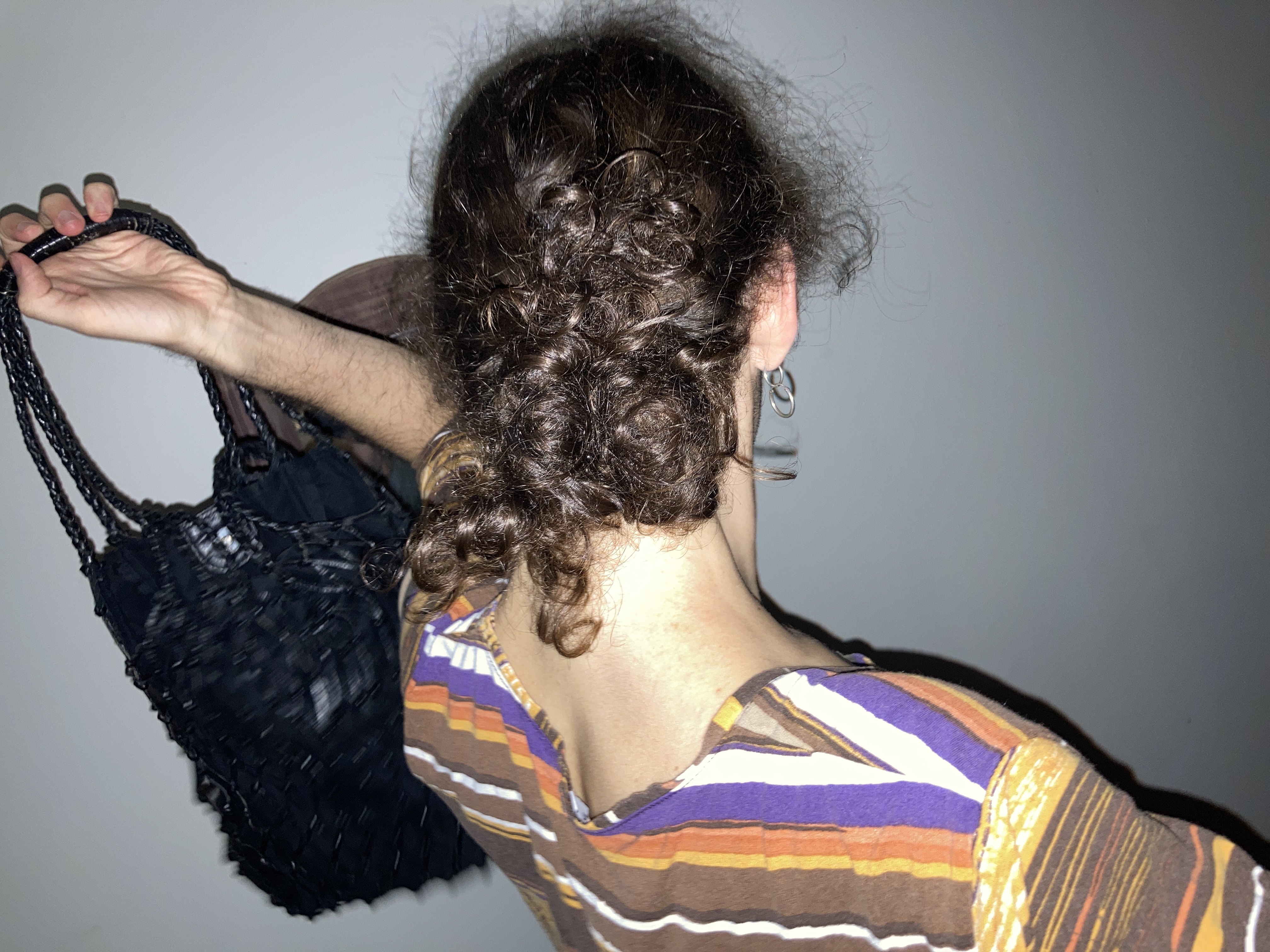 "the view from here", 2022
"the view from here" is a poetry reading, set in motion. Billy M folds their recent erotic, rhetorical and lyrical fictions into an intimate sculptural composition.
Text, voice and object are stacked into fragile images. 'Standpoints', as ways of seeing, are revealed for their flimsiness.
Antiheroes, nimbyists, malcontents and lusty lovers are inhabited and abandoned with equal interest. We can sense a world in the making – sensual, strange, often unpleasant, but it always resists a name.
"the view from here" will premiere at Resolution Festival, The Place, London, 2022.
---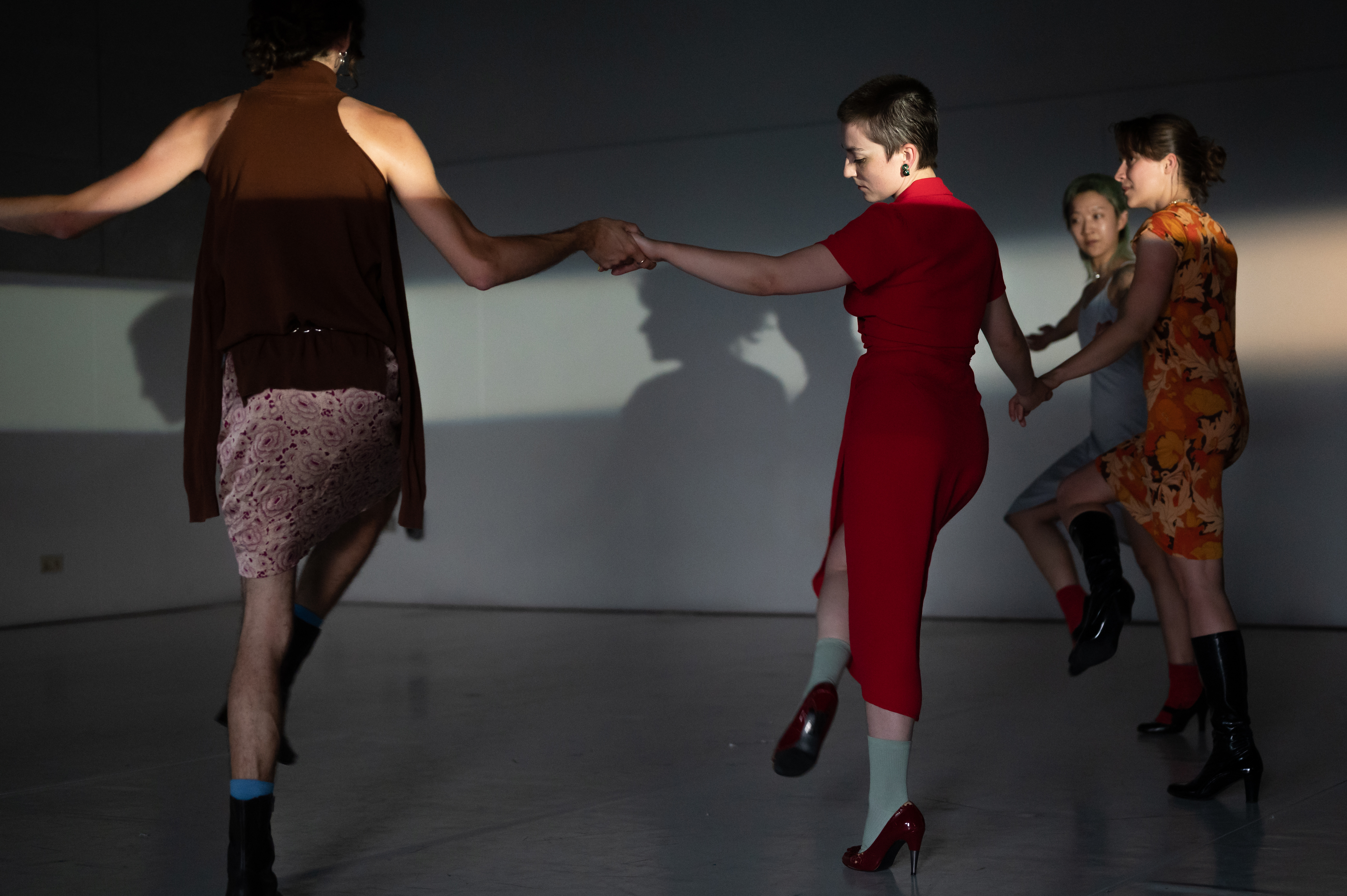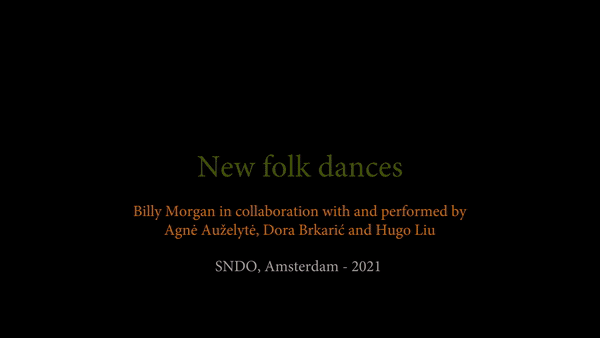 "New folk dances", 2021
In collaboration with and performed by Agnė Auželytė, Dora Brkarić and Hugo Liu
"New folk dances" is a performance work that re-inhabits Greek folk dance figures for a post-celebratory setting.
Mediated by the forgiving human chain, the work blends elements from four folk dances. By applying the fallacy of virtuosity to the democratic forms of circle dances, the work plays on the dry qualities of amateur dance troupes.
"New folk dances" thereby asks how the 'oldness' of folk dance — and its wealth of pre-existing material — can be both a container for sociality in the hyperindividualised present and a frame for the conjuring of diverse 'new' folk imaginaries.
"Helen runs an online shop for Graeco-Roman garden ornaments with her husband Panayiotis from their detached house in Hadley Wood.
On Saturday night they go down to Trios in Palmers Green, where you can still smoke inside."
With advising by Bruno Listopad & Leonie Kuipers, tech support by Ciro Goudsmit & Kiki Heslenfeld
---
"Feine salate", 2020
A choreography of object-subject partnerships.
A loose series of games invented to trick the body into presentness.
A noisy wooden lodge.
A longwinded private joke.
Uses up the dissociative leftovers from a 70's recipe book of gourmet salads.



https://vimeo.com/541387131
---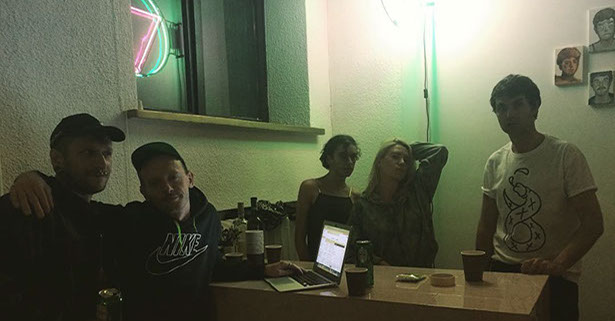 "a Celebration", 2020
is a poetry and sound performance.
"..
shall I compare thee
to a rusty bike?
I wanna ride you
til you run
out of words
til your ears
fall off and
into my purse
.."
A series of poems woven into a sonic landscape, the text works with the lyrical trope of address, underscored by longing.
The work was presented as part of the exhibition 'Queer Queer Casimir', Salon 14, Warsaw in October 2020 and at Theatre Arsenic, Lausanne, September 2020, where it closed a party programmed by Kem as part of Programme Commun.
---
"Songs of Poland", 2020
An expanded poetry reading at the intersection of text and gesture.
The text broaches contemporary medievalisms, by way of nationhood, loss, and queer friendship. Four poetic chapters unfold to a track of found sound and intimate recordings that loop through both the club and intimate body space.
"..There was invasion there was growth.
There was help there was criticism.
There was help there was contradiction.
There was sharing there was dancing.
There was holding there was loving.
There was gladness there was selfishness.
There was heartlessness there were hearts to be won.
.."
Two movement inserts - a courtly social dance and a pleasure dance finale - surface within the script. Songs of Poland thereby plays out through a system of loops, at once sonic, choreographic, textual and temporal.
The work was presented in Capitain Petzel Gallery, Berlin, and at the invitation of Kem queer-feminist collective in Warsaw, both early 2020.
Link available upon request
---


"Nachtflug", 2020

A performance in collaboration with Moritz Krauth.


Nachtflug is a choreography of anticipation, developed for the stone staircase in K21 Kunstsammlung NRW, Düsseldorf. Taking cues from Antoine de Saint Exupery's 'Night Flight', in which the spectre of disaster is never far away, the performance locates itself in an ante-realm.

Two performers attempt to create a dialogue of expressions, interrupting one another's narratives in gestures towards conversation, for it all to end in a monologue.


"Lately, I have been obsessed with the idea that something is going to happen.
I have no idea what I am anticipating and yet I seem to spend all my time in waiting.."
The work was developed and performed at K21 Düsseldorf, March 2020, and the documentation was presented in Am Ende Des Tages, artist-run initiative in Düsseldorf, also throughout March 2020.
---


"Song Cycle", 2019

A poetry reading with sound.


"..
And one look back
into it. phalloi of businessmen
turn up, setting wrinkles in airspace
winking at the european horizon,

A thousand great Dreams for polska
in these glamourless erections;
emergent, cosseted in blue panes
they dribbblee a paltry cum spoil,
From the urethrae of their cheap and
nasty summits, oh
get me a Margaritah love!
.."


The text speaks on turbo-gentrification, outsidership, queer ruralism and grief, where the financial district of Warsaw serves as a backdrop.

Performed in Dziwnowo queer house in Warsaw in July 2019, and features in the latest iteration of the 'Faggots, Friends' film sequence by Alex Baczynski-Jenkins, screened as part of RIBOCA 2020.


---


"Cruellest of All", 2018-19

A recurring performance that takes a subjective tour through the permanent collection of the CCA Warsaw as its starting point.


The collection is probed from a critical subjectivity. Strands of queer futurity, post-humanist provocations, animism and queer spatial theory are interwoven with embodiment, Jenny Holzer's timely 'Truisms' and poetry on colour from Derek Jarman's Chroma.

Strategies of soft power are deployed to direct and implicate the audience's responsibility in relation to the issues that are broached.


"The future is stupid! Men won't protect you any more!"
Scripted & choreographed with Ania Nowak, for the exhibition 'Far Too Many Stories To Fit Into So Small A Box', October 2019 - May 2020, curated by Bik Van Der Pol & Joanna Zielinska, at U-jazdowski Centre for Contemporary Art, Warsaw.
Link available upon request
---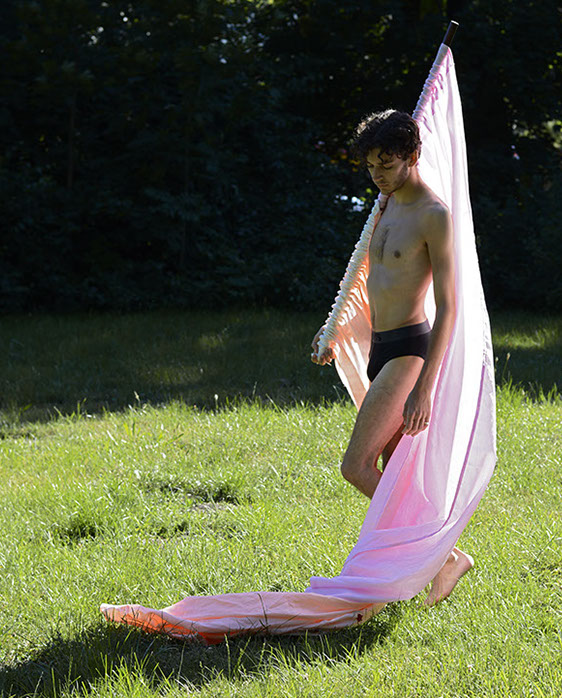 "Wet Look", 2018

An outdoor performance work, in which the minotaur as 'sexual other' is embodied through various characters – the lone cruiser, the urinal pisser and the prowling minotaur itself.


A labyrinthine path is staked out as an act of queer territoriality. Movement material is found through intuitive experimentation with a wooden pole & reflective fabrics. These elements take on an architectural quality, demarcating space while suggesting the presence of force, entanglement, safety, sensuality, and horns.

Situated between two trees, one in shade & one in bright summer sunlight, the ephemeral staging evokes the 'wet look' of the iridescent fabrics, and thereby 'wetness' as a spatio-sexual quality, in dialogue with its immediate environment.

Performed in the sculpture garden at Pałac Królikarnia, Warsaw, 2018.



https://vimeo.com/374035436
---